You should configure the site link's properties after you create a site link. Configuring a Site link allows you to specify the link cost, replication schedule, and replication interval. An Active Directory Site Link's property can be configured as explained below.
In "Active Directory Sites And Services" snap-in, site links are added to either IP or SMTP folder under Inter-Site Transports. Select the protocol folder (Either IP or SMTP) by clicking the folder, right click the Site Link which you want to configure and select "Properties" from the pop-up menu.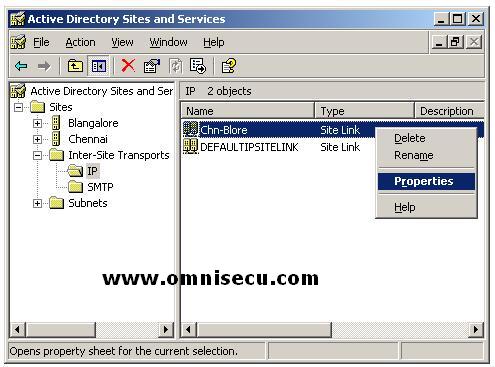 The Properties dialog box of "Chn-Blore" Site Link will be displayed, as shown below.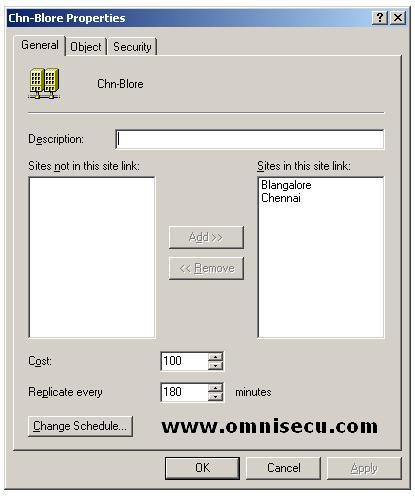 In the above dialog box, you can configure two important properties related to site link, Link Cost and Site Link replication frequency, as explained below.
Configuring Site link Cost
Site Link Cost is a value assigned to the site link that indicates the cost of the connection in relation to the speed of the link. Higher costs are used for slow links, and lower costs are used for fast links. If you have a high speed connection, configure a lower cost value and if you have a low speed connection, configure a high cost value. Active Directory uses a low cost connection is whenever possible.
Configuring Site Link Replication Frequency
Site Link Replication Frequency configuration value is used to instruct Active Directory how many minutes of interval it should check for replication updates. The replication interval minimum value should be atleast 15 and maximum is 10,080 minutes (One week).
Click the "Change Schedule" button in the Site Link properties dialog shown above to configure the time when this site link is or is not available to replicate directory information. Click "OK" button to complete.