There is no Display Settings to configure the display resolution in a Windows 2008 Server Core Computer. The display resolution of a Windows 2008 Server Core Computer can be configured inside the Windows registry. To configure display resolution of a Windows 2008 Server Core Computer, use the Windows registry editor tool, regedit.exe.
Open regedit.exe by running regedit.exe and open the node HKEY_LOCAL_MACHINE\SYSTEM\CurrentControlSet\Control\Video.
Under this will be a list of GUIDs and you need to determine which one corresponds to your video card/driver. GUIDs are used to identify objects like interfaces, class objects etc. A GUID is a 128-bit value consisting of one group of 8 hexadecimal digits, followed by three groups of 4 hexadecimal digits each, followed by one group of 12 hexadecimal digits.
The GUID which corresponds with your video card will normally be the one with a VolatileSettings subkey under the 0000 subkey. Under the GUID, you can set
\0000\DefaultSettings.Xresolution
\0000\DefaultSettings.Yresolution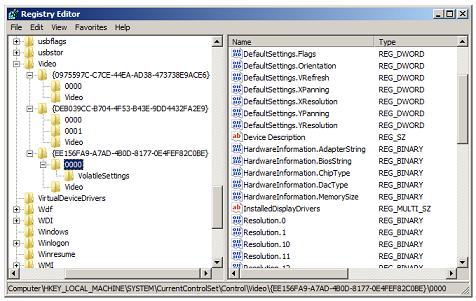 You should be extremely careful while changing the registry settings because if you specify an unsupported display resolution, you may end up in reinstalling new operating system. You may also try to connect remotely to the registry from another computer to change it, and reboot remotely if you made any mistake in registry settings.