Introduction to Microsoft Excel
Welcome to OmniSecu.com Excel Tutorials.
Excel is a spreadsheet program, developed by Microsoft Corporation. A spreadsheet is a grid of cells, arranged into rows and columns. These cells are used to enter, store and manipulate your data.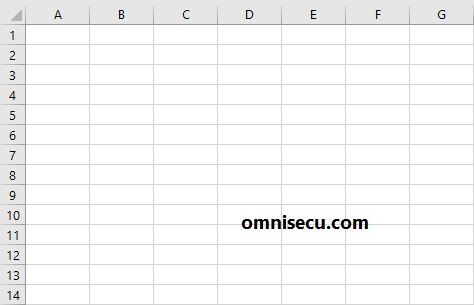 Excel spreadsheet program is a part of Microsoft Office package. Microsoft Office is a software package of productivity tools developed by Microsoft. Current version of Microsoft Office is 2019. Other programs inside Microsoft Office package are Access (Database), Word (Word Processor), PowerPoint (Presentation Program), Outlook (email client), OneNote (Multi-user collaboration), MS Publisher (DTP Program), MS Project (Project Management program,) & MS Visio (Advanced diagram & chart making program)
Two different options are available to purchase Microsoft Office.
1) Office 365: Office 365 is a subscription-based online service.
2) Office 2019: Office 2019 is sold as a one-time purchase, which is Stand-alone Office 2016 similar to previous versions of MS Office.
Click below links to visit official pages of Microsoft Office.
https://www.office.com
https://www.microsoft.com/en-in/download/office.aspx
Excel spreadsheet can be used to perform very simple tasks to very complex tasks. Even though Excel is the top spreadsheet program in the world, most of Excel users have very limited knowledge in Excel. More than 70% of Excel users use only less than 5% of Excel's available features.
Excel can be used in almost every business fields. Some of the uses of Excel is listed below.
• Create, edit, sort, analyze, summarize, and format data.
• Engineering and Construction
• Science
• Complex mathematical and statistical calculations
• Complex Data Analysis
• Budgets
• Accounting and payroll
• Investments, Shares
• Sales, marketing
• Production Planning, Material Management, Inventory
• Creating graphs and charts using complex data
• Task automation using Macros (VBA Programming for Excel)