Excel Formula Bar explained in detail
The Excel Formula bar is located above Excel Worksheet window, as shown in below image. Excel Formula bar has three components. 1) Cell Name Box 2) Formula bar buttons and 3) Cell contents.
The left most is called as "Cell Name Box", middle one is "Formula Bar Buttons" and right one is the contents of the Active Cell. Data or formula entered in the Active Cell will appear in right-most section.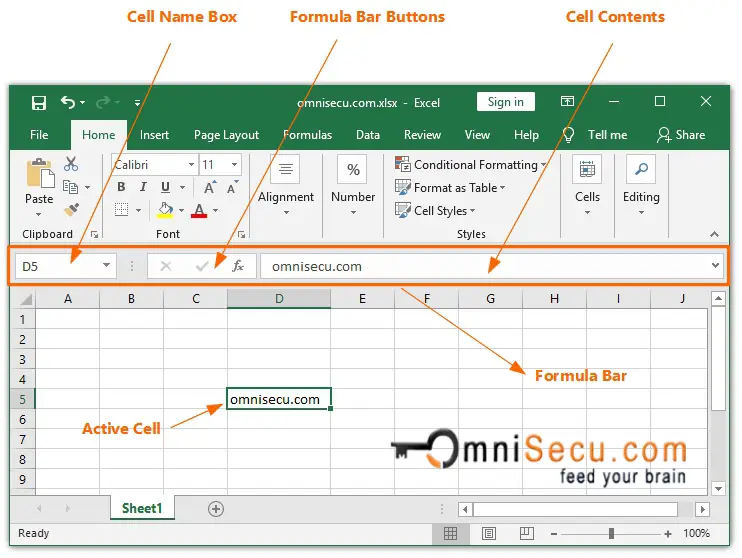 Cell Name box : Left-most component of Excel Formula bar is called as Cell Name box. Cell Name box displays the address of the Active Cell. In the above image, Active Cell address is D5, which is shown in Cell Name box.
Formula bar buttons : The middle component of Formula bar is Formula bar buttons. There are three Formula bar buttons available. A Cancel (X) and Enter (tick mark) and an insert function button (fx). Cancel button and tick mark are enabled only when you edit a cell. Clicking the Cancel button will cancel your entry in the cell. Clicking the tick mark will insert the data in cell. The third button (right-most button) is insert function button (fx). Insert function button will display "Insert Function" dialog box, from where you can select a function from a list of available functions.
Cell contents : Right-most component of Excel Formula bar shows the content of Active Cell. It is very useful, if the contents of Active cell are long. It is difficult to view long cell data within an Excel cell.
You can see that the cell content of Active Cell is text "omnisecu.com". That content is displayed in Cell contents box.
Click following link to learn How to hide or show Excel Formula bar.